Delta Air Lines creates a Day For Champions, a once-in-a-lifetime experience for kids
Children's Miracle Network Hospitals partnered with Delta Air Lines to create to a special "Day For Champions" for five pediatric patients in Atlanta, Boston, Minneapolis, Salt Lake City and Seattle.
On July 31, patients treated at Children's Healthcare of Atlanta, Boston Children's Hospital, Gillette Children's Specialty Healthcare, Primary Children's Hospital and Seattle Children's Hospital and their families were invited to their local airport for a one-of-a-kind experience.
Each Champion and their families got a behind-the-scenes tour of the airport operation, visited the flight deck, helped on the ramp and were treated to some fun activities and refreshments while visiting with Delta employees during their special day. Delta employees at each airport planned a customized day for their Champion and invited employees from various work groups to come along for the fun. Delta employees and the Champions also put together care packages and cards to take back to the child's hospital to share with other patients receiving treatment there.
Meet the Champion children who represent the 10 million kids treated each year in Children's Miracle Network Hospitals across North America.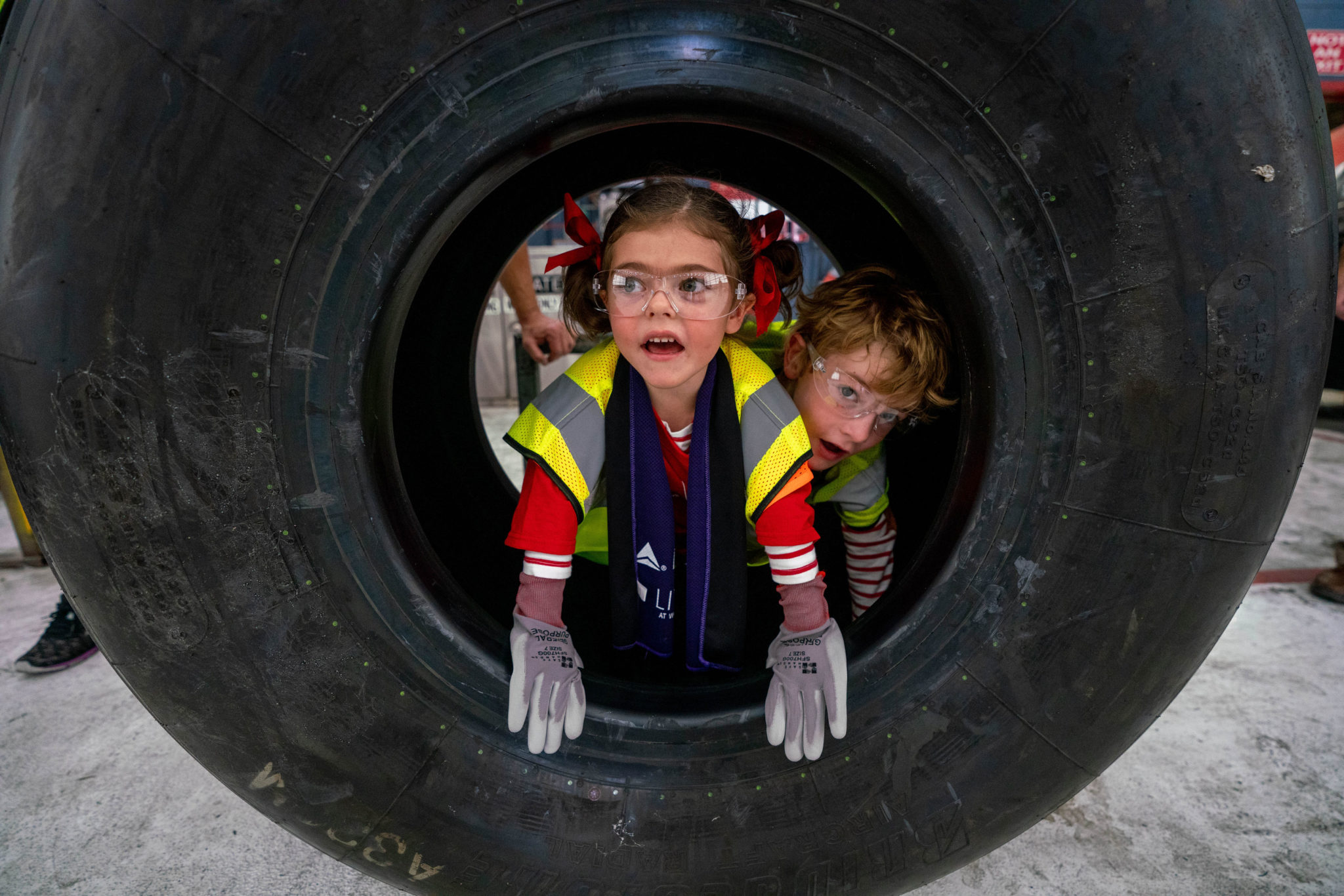 Primary Children's Hospital Champion: Nyla Jane, age 5
At five days past due and 24 hours of labor, Nyla Jane was born on July 2, 2014. Exhausted and rejoicing, maternal instincts told her mom that something was wrong. Nursing seemed to be a special torture, and as hours passed, Nyla Jane's cry became weak. After many days and tests, they discovered she could not swallow. All the milk her mother had feverishly tried to fill her daughter's belly with had filtered to her lungs. Nyla Jane lived in the NICU for the first six weeks of her life.
After a small cardiac condition was also discovered, and multiple other organ systems became involved, Nyla Jane has become known as "undiagnosed". She goes through feeding therapy learning how to eat. Food can go in, but nothing can now come up. Ever again. Nyla Jane carries her burden literally on her back with a tiny backpack filled with formula; or she is tethered to her IV pole. There are monitors that help Nyla Jane's family keep watch on her heart rate and alert them if she needs oxygen. Nyla Jane has had 35 surgeries and procedures before she even turned three at Primary Children's Hospital—where she has come to think of the caregivers as family.
Nyla Jane and her older brother Sammy were able to visit the air traffic control tower in Salt Lake City and experience the deicing machine.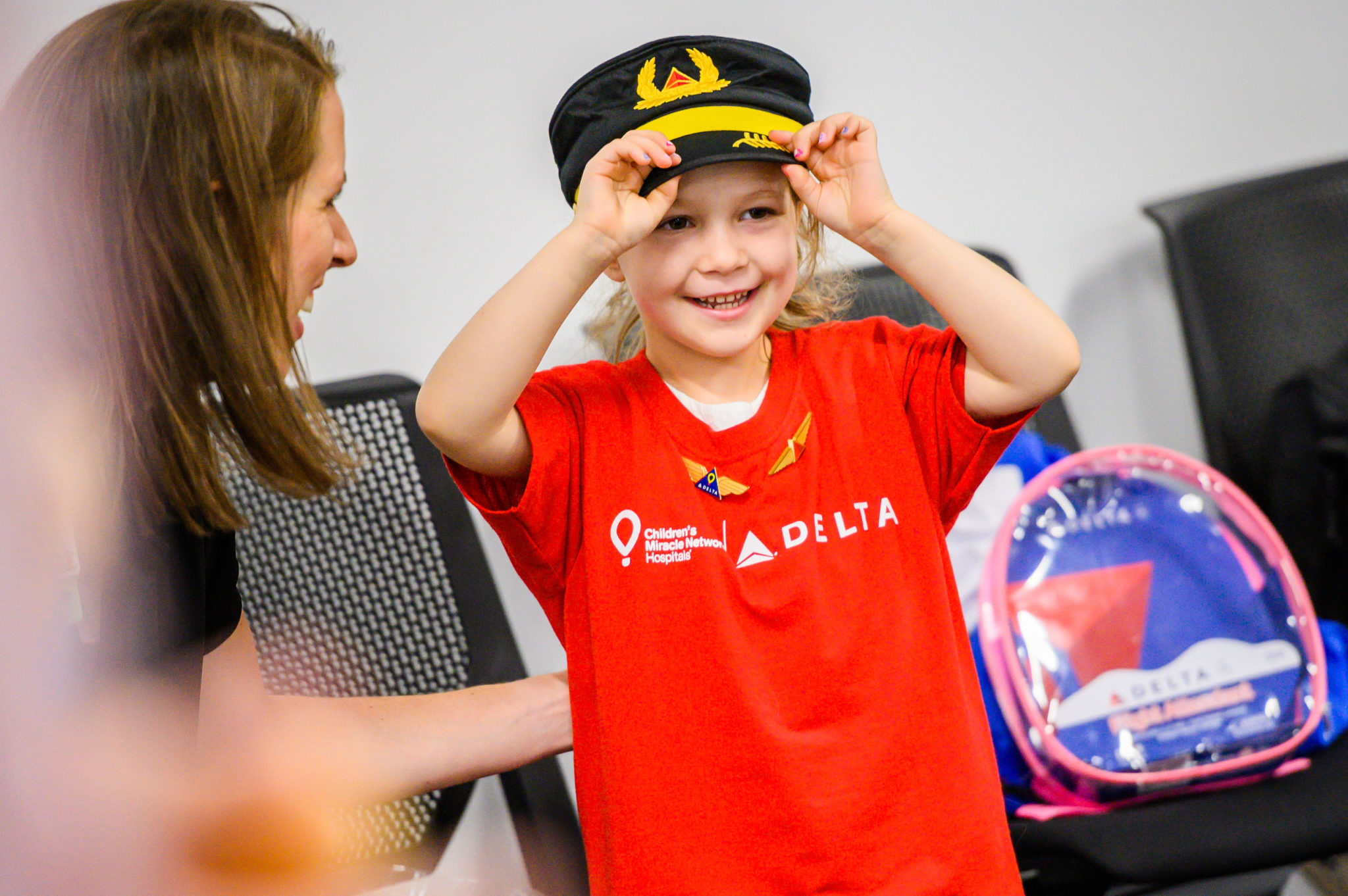 Children's Healthcare of Atlanta Champion: Caroline, age 4
Caroline had a softball-sized tumor nestled at the base of her brain. A slight tremor in her left hand was the first sign there might be a problem, but her parents never imagined their daughter had brain cancer. The official diagnosis was anaplastic ependymoma.
Before her surgery at just 3 years old, the neurosurgeon encouraged her parents to gather their family and spend time with Caroline. He was hopeful and confident, but realistic. He said that if she survived the surgery, Caroline would likely be paralyzed on her left side. The ophthalmologist predicted she would be blind. For eight hours, while their youngest child underwent brain surgery, Jamie and Matthew waited, prayed and wept together. When the surgery was over, they escorted Jamie and Matthew into the hallway to see their daughter. They were prepared for the worst, but to their amazement, Caroline was sitting upright in bed and smiling. She waved to them and said, "Hi, Mommy and Daddy." In that moment, they understood the definition of a miracle.
Caroline was not blind. She was not paralyzed. The neurosurgeon was able to remove the large tumor from her brain. And seven days after she walked into the hospital, Caroline walked out. Caroline, who underwent two months of proton radiation after the procedure, lost her hair and required physical therapy briefly. However, during her six-month MRI in November 2017, another brain tumor was found.
She underwent a second brain surgery shortly thereafter, and the neurosurgeon and Children's team were again able to remove the tumor. After treatment, her parents look forward to a cancer-free future for Caroline.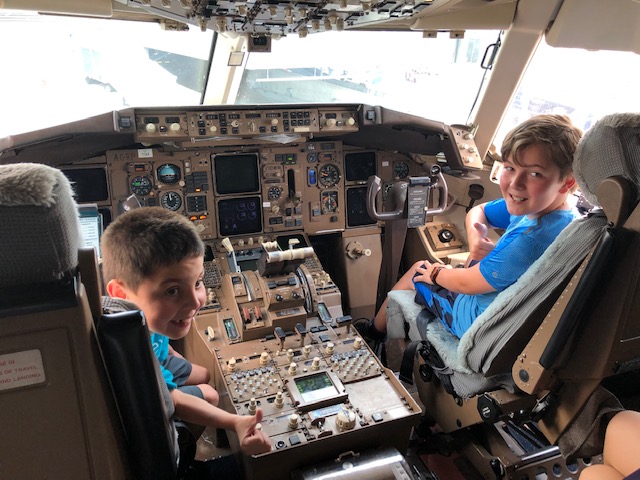 Boston Children's Hospital Champion: Brody, age 6
Newborn Brody's case was complex: His abdominal organs had grown outside his body—a condition that also affected the development of his heart and lungs. Brody's condition was high-risk, but a multidisciplinary team of doctors at Boston Children's Hospital was well-equipped to treat him. Brody spent his first 7.5 months in the hospital, where he grew stronger with the help of various surgeries and therapies. Almost two years ago, he took his last step toward freedom: his breathing tube was removed. Now Brody is a happy, healthy little boy.
Brody and his brother Jameson sat in the flight deck of a Delta plane and decorated paper airplanes.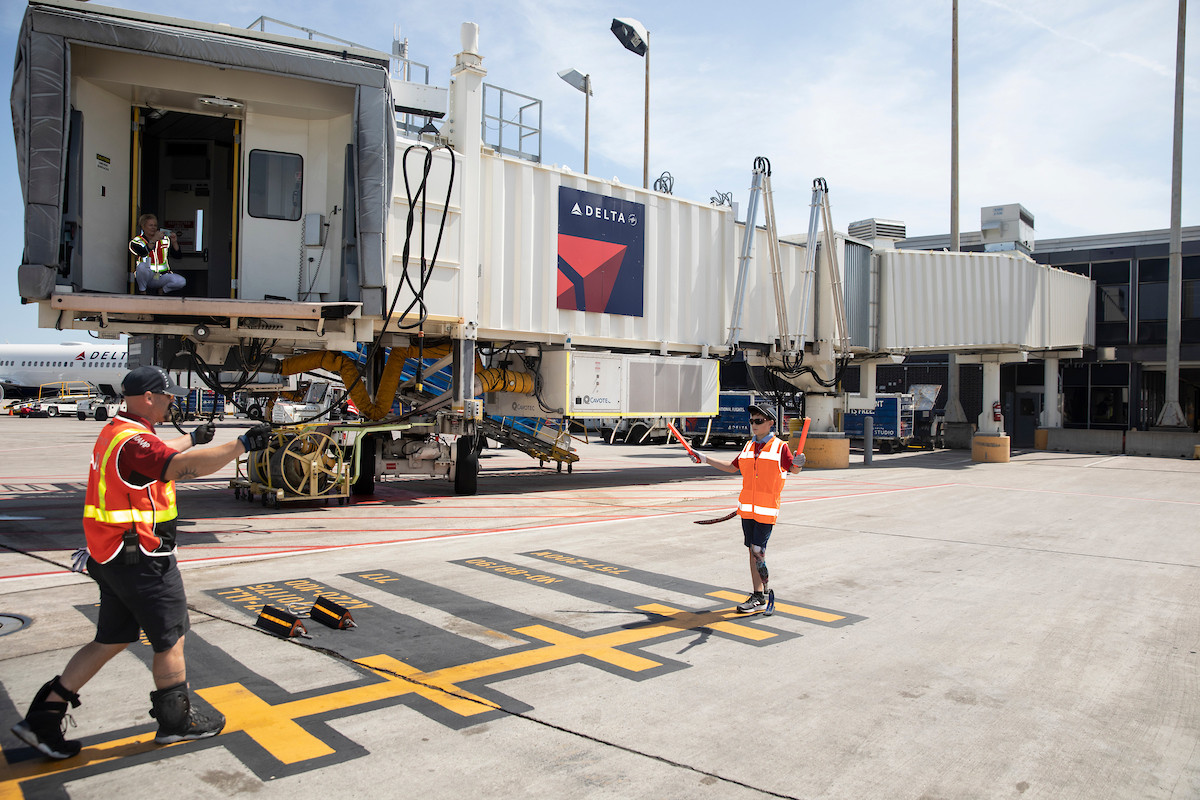 Gillette Children's Specialty Healthcare Champion: Eli, age 11
Eli has fibular hemimelia. He was born missing the fibula of his left leg. When he was eight months old, his leg was amputated just below his knee. At the time, Eli's father was an active member of the National Guard and was due to deploy. Due to the discrepancy in the length of Eli's limbs, he had never been able to walk. He was being fitted for a prosthesis, but it likely wouldn't be ready before his father shipped out. The prosthetists at Gillette decided to fast-track the production of Eli's prosthesis, and his parents were able to watch him take his first steps on the parallel bars in a regional clinic near their home. His father, Rich says, "You can't imagine how much that moment meant to us."
Now 11 years old, Eli is a happy, intelligent and active kid. He participates in track and field, soccer and other sports, and now that he has a prosthesis specifically designed for running, is incredibly fast. Eli's been coming to Gillette his entire life. He is incredibly mature for his age and enjoys teaching other people about his medical condition. He's very charming and exceedingly positive.
He said of his experience marshalling a Delta aircraft into position at the gate, "This big plane is coming towards you. I was excited, but my heart was pounding!"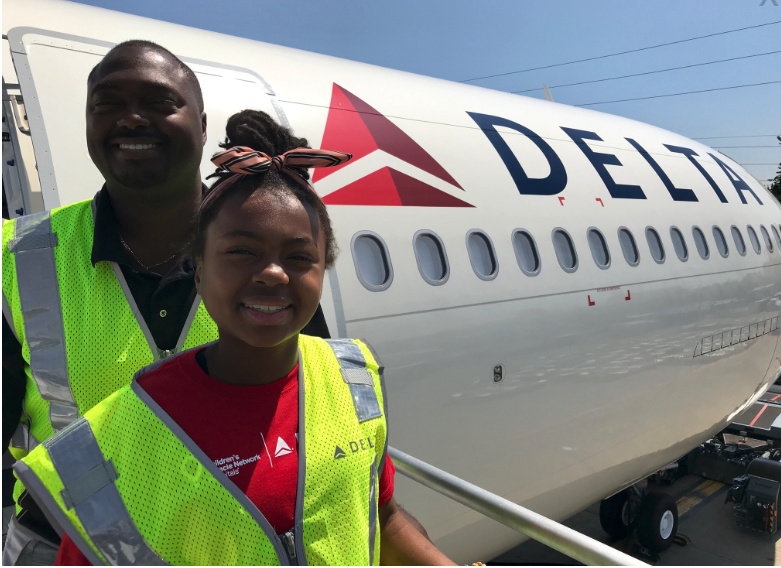 Seattle Children's Hospital Champion: Saleea, age 12
Since she was born, 12-year-old Saleea has grappled with sickle cell disease, a life-threatening blood condition that requires constant treatment. It can be intense, but it's no match for Saleea's winning attitude. The team at Seattle Children's Odessa Brown Children's Clinic has supported Saleea from the beginning, and the uncompensated care fund has helped her family manage the medical bills that come with her chronic disease treatment.